My new DVD, How to Make Heavenly Cake Pops at Home, is now for sale!
We recently changed shopping carts to better serve you!
Have you tried to make Cake Pops but…
They fall off the stick when you make them?
They crack when they are dry?
The chocolate just doesn't look smooth?
Other questions like:
What kind of cake is best?
What kind of chocolate do I use?
Do you use Paramount Crystals?
Or have you just wanted to try it on your own and don't know where to start?
You can find out online, free, but its not my way (its HARDER!) these are the tips and tricks I have learned after making several 1,000's!  Ships out within 24 hours from order date.  IF YOU REQUIRE SIGNATURE FOR THIS DELIVERY PLEASE LET US KNOW IN THE NOTES OF YOUR ORDER.  SIGNATURE IS AVAILABLE FOR AN ADDITIONAL $3.00 BUYER ASSUMES ALL RESPONSIBILITY FOR LOST OR STOLEN PRODUCTS.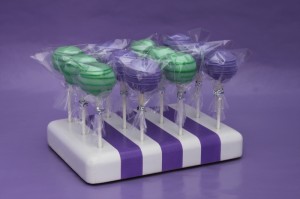 To find out where to get this Cake Pop Stand click Here