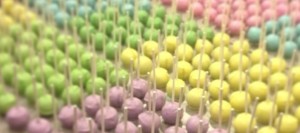 How far in advance can I make cake pops?! This is a question I get A LOT! Usually its a wedding or a big event they will be making a large number of cake pops for and want to be able to manage their time to get them all done in plenty of time.
*DISCLAIMER* Keep in mind, this is only my experience (it happened only once – but that was one too many times for me!) This is just what I do, but you can do your experimenting if you have the stomach for it! These days even if I am pretty sure on day 8 my cake pops are fine, I will toss them just out of precaution.
Here it is, my answer is always the same, make sure you are serving cake pops that have been baked no more then 7 days ago. Please count from the day the cakes were baked, not the day you finished making the cake pops! You most likely have a couple more days, especially if keep them refrigerated, you don't need to refrigerated them but they will last longer, HOWEVER you never know if one of the guests are going to take one home and eat it a day or two later. Or know how they will store it before eating it. You don't want someone eating bad cake pops!! They look great until you go and bite into them!! If they are older then 10-11 days they very well could be moldy, inside the chocolate shell! I. Had. A. Bad. Experience.
These are 11 days old and a picture from my customer way back from Thanksgiving of 2010! These were fine on day 7! So this is my warning to you, so you will NEVER have to answer to an email like this!!
Again… You don't to come anywhere close to this kind of customer experience! So 7 days is perfect! I haven't had an issue if I sell cake pops on day 7 to customers! If I am done early, I do like to store the completed and wrapped cake pops in a box and in the refrigerator. I don't take chances anymore!! (Refrigerating them also slows down the yellow cake pop stick problem)
Let me add 7 days is boxed cake! If you are making a cake from scratch you want to cut that number in half!
Now there IS a way to "Cheat" the system! You can pre-bake cakes and freeze them till you are ready to use them! Baking a bunch of cakes actually takes quite of bit of time! When I first started making cake pops if someone told me what was going to be a huge hang up on a large order was baking cake, I probably would have looked at them funny and said, "Really? That is the easy part!" Well if you think about it, one cake will make about 30 cake pops (when you use the Easy Roller or the Mini Easy Roller!) so if you are trying to make hundreds of them, that is a lot of cake, and that baking time adds up!! So bake a bunch of cakes and once they have cooled to room temperature, wrap them up and stack them in the freezer!! To wrap them, if you don't have a fancy vacuum sealer, then wrap in cling wrap and then in foil and then for extra measure in a Ziploc bag. If you are worried it wont fit in the Ziploc, you can break up the cake first, it's just for cake pops:)! Then just pull them out of the freezer and let them thaw before making your cake pop dough!
The Next Question is usually: "Can't I just freeze the cake pop dough?!" Of course you can, but I don't like to do it this way! I think it actually takes longer to make cake pops from frozen dough. You see cakes are airy and defrost really quickly and any extra moisture will actually help turn your cake to dough. And if you use the food processor to make the dough it only takes about 1-2 minutes per cake! When you freeze the cake pop dough, you have to wait forever for it thaw since it is so dense! Then there is condensation that is going to make the outside soggy so you better rest it on some paper towel and re-knead it when its thawed. So if you just have to re-knead it anyway I find it much faster and easier to just freeze regular cakes when you have a ton of cake pops to make!
And Finally I get, "Can I freeze the cake balls to use later?" I am 50/50 on this. I used to do this, but when they thaw they do have condensation build up and the bottoms get really soggy. So again they need to be resting on a piece of paper towel to thaw to help avoid that. And it does take a little time, especially if you defrost in the refrigerator. So If you don't have an Easy Roller then maybe I would freeze them as cake balls but if you are lucky enough to own an Easy Roller the rolling doesn't take enough time to make this step necessary.
How long can I keep the cakes/cake pop dough/ cake balls in the Freezer? That question always follows too;)! Well in my opinion that just depends on how well (or poor) the cakes are wrapped/stored. If you have a vacuum sealer you can keep them quite a while, months really! But if you are just wrapping them in cling wrap and foil I would say a couple weeks to a month. You don't want the smells of the freezer getting into your cake. Or for the cake to get freezer burn. Besides those little issues, don't you freeze your wedding cake topper to eat on your first anniversary;)! What I mean is it wont be bad to store it longer if it is stored correctly. However in my worst cake wrap job for the freezer it tasted just like it was made fresh after a 2 weeks in there. I don't see why you would need much more time then that anyway in a situation like this. Now if you are a bakery, storing cake tops or scraps to be used for cake pops later, just make sure you take the above precautions and store it to where it wont get freezer burn and/or take on funky freezer flavors;)!
Of course the next trick is to use the Easy Roller to roll them all into balls! I roll more then 500 in a hour! There is a learning curve for some and I have been using it the longest;)! But even if you can do 1/3 of what I can do with the Easy Roller you will speed through this step! Even with the Mini Easy Roller you can roll 9 at time so you will still roll an entire cake in a couple minutes! Then you have all kinds of time for dipping and decorating! The Fun Part:)!! The biggest "trick" to using the Easy Roller/ or Mini with success is to pack the frame tightly, so that cake pop dough is touching all for sides (think the tighter the dough is packed in this step the more firm the end resulting cake ball will be). Then when you slide the lid back and forth to make the cake balls, only slide the lid 3-4 times! The more you slide it the more likely they are to fall apart!
Check out this Quick 30 second demo:

If you are DONE rolling cake pops by hand you can purchase the Easy Roller Right Here! We hope you found this tip helpful! If you did, please share it and tell somebody about the Easy Roller or Mini Easy Roller:)! That is how we keep these tips coming!