POP Rock Cake Pops!
For these 4th of July Cake pops, what's better then red, white, and blue! For me, I achieve this by using Red Velvet Cake, white candy melts and blue sprinkles (or POP Rocks for extra 4th of July flare!!)
I use box cake mix for cake pops so I bake the cake as directed on the box, and when it cools I put the cake into the food processor and turn it on. In about 2 minutes with the chopping blade it will turn into cake pop dough. You can also use a stand mixer or of course just knead the cake by hand until you can form it into cake balls.
To make the cake balls we use the Easy Roller! It can roll 21 cake balls at once (I can roll more then 500 in an hour – or a whole cake in just a couple minutes)! Not only is it faster but the cake balls will all be the same size, weight and shape. Have you seen it?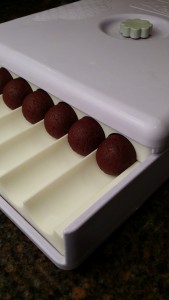 Don't need that many? We just launched our newest product, the Mini Easy Roller it can roll 9 at time! Still allowing you to roll a whole cake about 5 minutes.
Next melt down your white candy melts or almond bark (baking isle of the grocery store) on 50% power in the microwave. I usually make about 8 oz at a time and microwave it for 1 minute, stir, and then pop it back in for another 30 seconds.
If the candy melts are too hot it will be clumpy like this…
At the right temperature it will look like this:
If yours got too hot, it will come back to the fluid consistency if you just stir it to cool it off a bit. It does take longer then you think it should so just be patient. Don't try to dip your cake pops in chocolate coating that is too hot. You won't like the look of it.
Dip your cake pop stick into the chocolate and then push it into the cake ball.
Using the cake pop stick as a handle dunk the cake pop into the bowl of melted chocolate.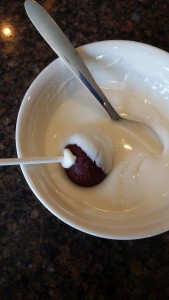 Then it is time to open up your POP Rocks! I got blue so I could complete the Red, White and Blue look.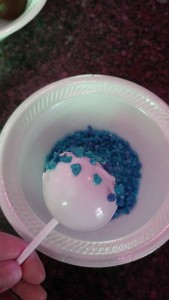 Now before the white candy melts harden sprinkle the POP Rocks on the cake pop and place in your favorite cake pop stand to set.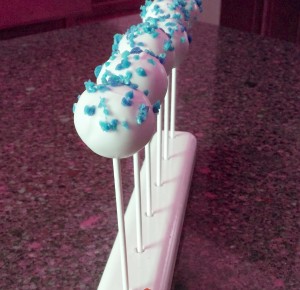 Wrap them up and share them with your friends and Family!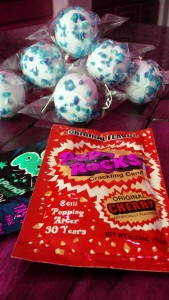 If you learned something or enjoy our little tutorials please share our Easy Roller or New Mini Easy Roller with your co-workers, friends, and family! It is how we keep them coming!