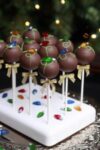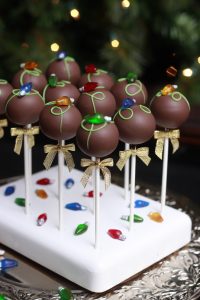 These are adorable holiday string light cakepops and perfect for your next Holiday Party!
Have you ever used CakePlay Isomalt? You can use it to decorate all your cakes, cupcakes and cake pops! Because it is like a hard candy you can shape, pour or mold.  There are so many colors available and you can flavor them to your liking as well! All you need to do is microwave it until it melts down and gets all bubbly, wait for the bubbles to dissipate and then pour it into your favorite molds – like this one for holiday lights!! It also sets super fast! For these incredibility cute holiday string light cake pops I am using the Mini Light Bulb Mold! Check out this short video to see how easy!!
Wait! Did you see that cake pop roller;)!? The Mini Easy Roller is new and rolls 9 cake pop balls (..or cookies, and even meatballs) at a time!  Just think, its like having 9 of your friends helping you roll all your holiday balls;)!! There is also a larger version that rolls 21 at once! You can check both of these Easy Rollers out here!
Next you are going to say, but my cake pop mixture looks much different than yours!  How did you make that? Well, I make it the easiest way possible!! I bake a box cake, per the directions on the box and knead it down to a doughy consistency.  To do this really fast I just pop the baked cake – after it is cool to the touch – into the food processor and turn it on! Yep, just cake, no icing and turn it on!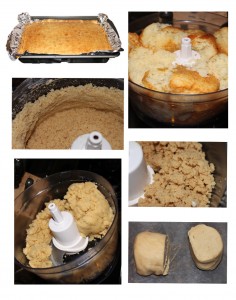 Do you like the icing part? No worries!! The Easy Roller will work even better if you add the icing (just add it all at once to the processor)! All I am saying is you don't need it to bind the cake into cake pop dough. The food processor will break down that cake for you in a matter of minutes.  If you don't have a food processor, you don't need to go out and buy one! Therefore, just knead the cake by hand!
Most importantly, when using the Easy Roller you'll need to knead it just a little longer than you normally would if you were going to roll those cake balls by hand.  When you roll the cake balls by hand, you are basically kneading a smaller portion into the ball shape. When you use the Easy Roller it can only roll what you give it, it cannot knead at all. This is why we say knead it a bit more on the front end (until it looks like one giant cake ball) and save hours rolling!!
I hope you enjoyed making these Holiday String Light Cakepops, and if you would like to share them with me, I'd love to see them! Reply on Facebook or Pinterest! I will see them there 🙂  Dont forget to check out my Easy Roller too! It's how we keep these posts coming to you 🙂