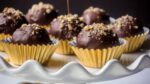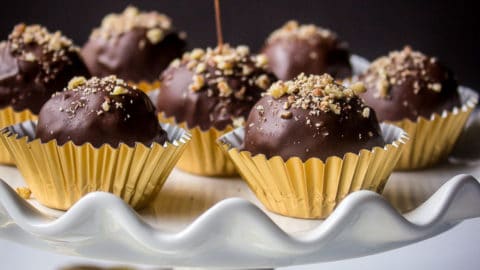 I found this recipe over at Just A Pinch Recipes and I thought I just had to try it in the Easy Roller!
Ingredients
2 1/2 cups pecans, toasted and chopped
1 cup graham crackers, crushed (vanilla wafers, oreos can be subbed if you do not like graham crackers)
1 cup brown, firmly packed
1/2 tsp salt (optional)
2 tbsp maple syrup
1/4 cup bourbon, brandy or spiced rum. For a non-alcoholic version: use almond extract, rum extract, or any other that may suit your taste. Add a little water/juice to equal the liquid amount.
1 tsp vanilla
7 0z dark chocolate bark. If you prefer white chocolate, go for it!
1 tsp coarse sea salt (optional)
Directions
Combine first four ingredients in a large bowl. Also add maple syrup, bourbon and vanilla. Use your hands to make sure all the ingredients are mixed thoroughly. (Almond extract can be subbed for a non-alcoholic version, add water to equal liquid amount. You may also try non alcohol rum flavoring.)
Assemble the frame to the Easy Roller over some wax paper, and turn pecan mixture out into the frame. Place another sheet of wax paper over top of the pecan mixture and with a rolling pin, roll it out flat. You'll find it's a little sticky, hence the wax paper on top!
Next, place the pecan mixture into the Easy Roller to be cut, and then remove the strips.
Replace 3 of the strips of pecan mixture horizontally on the bottom half of the Easy Roller, leaving a bit of space between each one.
Cover those 3 strips with the lid and slide forward & back 2-3 times swiftly until they have rolled into balls. Repeat these steps until all the pecan mixture has been rolled into balls.
Place balls in freezer for 2 hours
Melt  chocolate bark in a double boiler or microwave per directions on package. Dip frozen balls into chocolate, then place them on the parchment paper lined cookie sheet.
Sprinkle a few grains of coarse seal salt onto balls before chocolate sets.
These balls freeze well. Take out of freezer and let sit for 15 minutes. But they are also good frozen!
Thank you Camille McClendon for adding your recipe to Just A Pinch Recipes! I love that I can roll these out in no time with the Easy Roller! What is so great about this recipe is that it gives you room to play around and make adjustments to your taste. You can also make them children friendly! Maybe I will freeze some so I can take a few out when we have guests this Holiday season, or whenever I'm in the mood for a treat! 😉