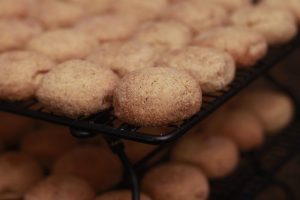 I found this recipe over at Center Cut Cook and thought that I had to try it in the Easy Roller!
Ingredients
8 ounces cream cheese, room temperature
1/2 cup butter, room temperature
1/2 cup canned pumpkin (not pumpkin pie mix)
1 1/2 cups granulated sugar
1 teaspoon vanilla
2 1/2 cups flour
1/2 cup graham cracker crumbs
1 1/2 teaspoons pumpkin pie spice
1/2 teaspoon cinnamon
1/2 cup graham cracker crumbs (for rolling the cookies)
1/4 teaspoon pumpkin pie spice (optional)
Directions
Preheat the oven to 350° and line 2 sheet trays with parchment paper.
In a large bowl, stir together cream cheese, butter, and pumpkin until completely smooth.
Add in the sugar and vanilla and stir until combined.
Add the flour, 1/2 cup graham cracker crumbs, pumpkin pie spice, and cinnamon. Carefully mix until it is completely mixed and smooth.
Assemble the frame and turn dough out into the frame. Place another sheet of wax paper over top of the dough and with a rolling pin, roll it out flat.  Then put the frame of dough into the refrigerator over night or until firm enough to roll. About 2 hours. Once they are firm Preheat oven to 350 degrees.
Next, place the dough into the Easy Roller to be cut, and then remove the strips of dough.
Replace 3 of the strips of dough horizontally on the bottom half of the Easy Roller, leaving a bit of space between each one.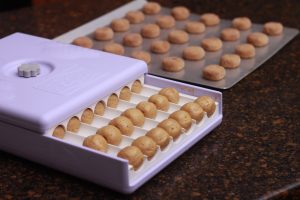 Cover those 3 strips of dough with the lid and slide forward & back 2-3 times swiftly until they have rolled into balls. Repeat these steps until all the dough has been rolled into balls.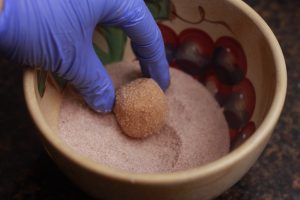 Roll in the remaining graham cracker crumbs (with the pumpkin pie spice mixed in if desired).
Place on the tray, slightly press down so they are flat and bake for 15 minutes.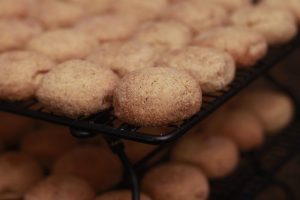 Yum!! Thank you Center Cut Cook for the delicious cookie recipe! I love how I can roll these out in no time with the Easy Roller too! Perfect fall treat!