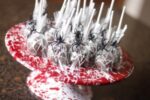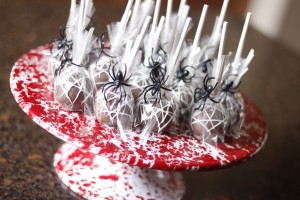 Here is a quick tutorial on Easy Spiderweb Cake Pops that everyone can do. Running short on time or have a whole bunch to make? This is my "go-to" cake pop to make for class parties or large Halloween/Spooky Events!
Start by making (or even buying a cake!) If you use a box mix like us, the average yield is approximately 30 cake pops per box mix.
Bake the cake just like it calls for on the back of the box. Let it cool to the touch and crumble and need it down to a doughy consistency. If you use a stand mixer (or food processor) it will knead the cake down for you into dough in just a couple minutes. Take a look, you won't believe this is cooked cake unless you see the process;)!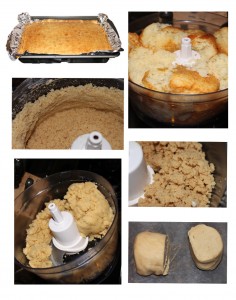 You can also do this part by hand!  Just grab some gloves and knead the cake till it turns to dough.  If you do this by hand you may need a couple TBS of frosting to really get it going.
Next roll your cake into 1.25 inch balls.  The Easiest way to do it is of course in our Easy Roller or New Mini Easy Roller!  Take a look on how that works here, it's just 30 seconds:

If you are really serious about cake pops (or Cookies & even Meatballs!) check out the Easy Roller, it is the same concept but rolls 21 at once rather than 9!
Next melt down your candy melts or chocolate almond bark in the microwave on 50% power (or defrost) for 30 second intervals until it is melted. then dip your cake pop stick into the chocolate, then into the cake ball.  Next dip the entire ball in the chocolate candy melts or almond bark.
Let them set upside down like this on wax paper until they have set. Then melt the white chocolate candy melts in a sandwich bag and cut just the tip off one of the corners and with even pressure squeeze the bag while turning the pop with your other hand.  This will give you your "spider web" See how we do it in this quick video.
Next all you have to do is wait for that to set and then wrap them up in a little 4X4 bag and put a spider ring right on top, over the cake pop stick! Treat & souvenirs in one;)!

  If you like the tutorial don't forget to check out and share our Easy Roller  or New Mini Easy Roller with your friends!  It is how we keep these tutorials coming:)!