I love Snickerdoodle cookies and The Brown Eyed Baker has a fabulous recipe!  And guess what!! You can roll these in the Easy Roller!! Here it is:

INGREDIENTS:
2¾ cups flour
2 teaspoons cream of tartar
1 teaspoon baking soda
¼ teaspoon salt
1 cup (2 sticks) unsalted butter, at room temperature
1½ cups sugar
2 eggs
1 teaspoon vanilla extract
3 tablespoons sugar
1 tablespoon cinnamon
DIRECTIONS:
1. Preheat oven to 350°F. Line baking sheets with parchment paper or a baking mat.
2. Whisk together the flour, cream of tartar, baking soda and salt in a medium bowl. Set aside.
3. Cream together the butter and sugar until pale and fluffy. Add the eggs, one at a time, beating well after each addition. Beat in the vanilla.
4. Gradually stir in the flour mixture, beating on low speed just until the flour is blended.
5. In the meantime, mix together the sugar and cinnamon in a small bowl.
6. Scoop balls of dough Use the Easy Roller to Roll up to 21 of your snickerdoodle cookies at once, and then coat the balls in the cinnamon and sugar mixture.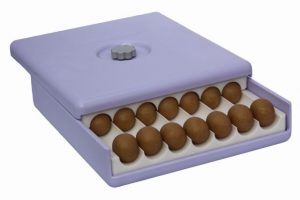 7. Chill the dough balls for at least 15-20 minutes.
8. Place on cookie sheet about 2 inches apart and bake for 10 minutes.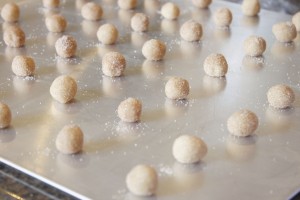 9. Chill the dough and cookie sheets between batches.
10. Let cookies set on baking sheet for 2-3 minutes and then remove to a cooling rack. Store cookies in an airtight container.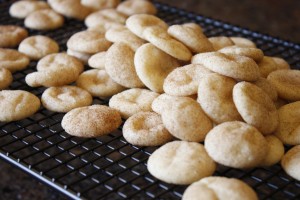 I just love how they are all the same size 🙂