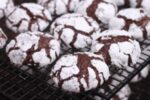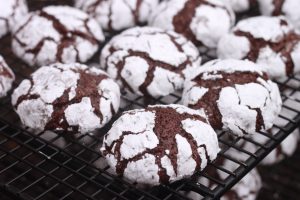 These Chocolate Crinkle Cookies I found over at Simply Recipes by Garrett McCord and I just had to try them. In the Easy Roller of course!
Ingredients
1 cup unsweetened cocoa powder
1 1/2 cups white granulated sugar
1/2 cup vegetable oil
4 eggs
2 teaspoons vanilla extract
2 cups all-purpose flour
2 teaspoons baking powder
1/2 teaspoon salt
1 cup confectioners' sugar
1 Beat together cocoa powder, white sugar, vegetable oil. Don't be alarmed it will be sticky!
2 Add eggs, one at a time, then add vanilla: Making sure each egg is fully incorporated before add the next.
3 Whisk together flour, baking powder, salt.
4 Beat dry ingredients into cocoa oil mix.  Do not overbeat.
5 Cover and chill: Cover the dough with plastic wrap and chill the dough for four hours or overnight.
If you are using the Easy Roller, spray the plastic wrap with Pam and place the dough inside and form it to about the shape of the "Easy Roller frame." The dough is really sticky so the Pam/ cling wrap helps to form it into a more manageable shape.  Then let it set up in the fridge.
Assemble the frame of the Easy Roller and take off the cling wrap. Dust the top of the dough with powder sugar and place another sheet of wax paper over top of the dough. With a rolling pin, roll it out flat. But it should be about the right size straight from the refrigerator.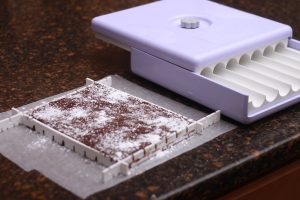 6 Roll dough into balls, roll into powdered sugar, place on cookie sheet. Preheat the oven to 350°F and line two baking sheets with parchment paper or spray with Pam. Place the confectioner's sugar in a wide bowl.
**If rolling by hand: Use a rounded tablespoon get clumps of the chilled dough and hand roll them into 1.25-inch balls using your hands. However this takes forever, and did I mention, its Sticky!!
Or if you are using the Easy Roller, you can just remove the plastic frame. Then set the dough into the Easy Roller to be cut. After that, remove the strips and place 3 of them back onto the front half of the Easy Roller.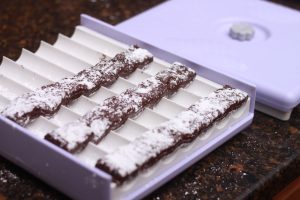 Replace the lid to just cover those strips of dough and slide forward and back until you have rolled them into balls. 2-3 times swiftly should be good!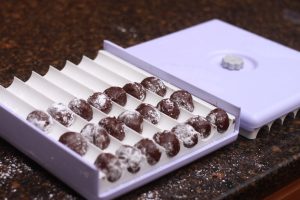 Now just Roll the balls in the confectioner's sugar and place on the cookie sheets to bake for about 10-12 minutes.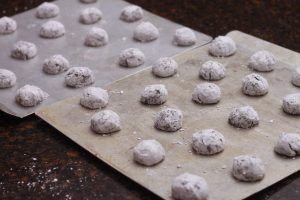 Allow to cool a minute or two on the baking sheets before transferring to a wire rack to cool completely.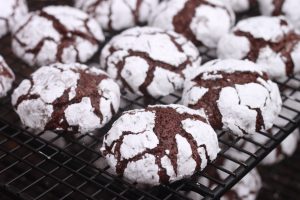 I love using the Easy Roller to make cake pops, but these cookies were just as fast and easy!
If you liked this post, share it & the Easy Rollers with your friends and family!  It's how we keep these posts coming 🙂