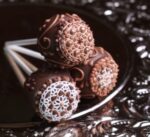 Cupcakes & Leftovers…  I make cupcakes from time to time. Since I have always have a bunch of these cupcake wrappers on hand at all times. It's an easy "go to" for an after school treat, or in this case for my son and his "crew" for his 12th birthday last week!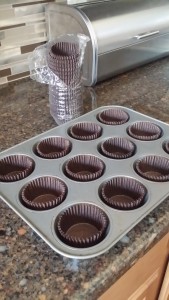 I use a 1/3 measuring cup to make sure I get about the same amount of batter in each wrapper!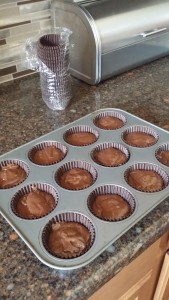 Bake at 350 for 18 minutes and Voila! Cupcakes!!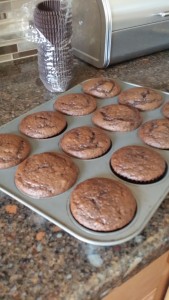 We ended up having 2 birthday parties for my son, one with his friends and another with the family.  For the family party a few days before we had chocolate cake with chocolate ganache!  I only mention this, because this post is all about leftovers, and I had leftover chocolate Ganache so that is what I used to frost the cupcakes 🙂 Since Ganache sets up pretty firm like those Hostess Cupcakes I threw a little swirl over the top and added his favorite candy on top! Not my most creative moment, but my 12 year old son just wants all his favorites, as fast as possible;)!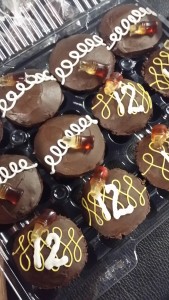 & of course with every party there is ALWAYS leftovers!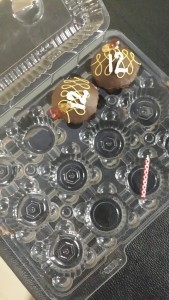 What do you do with leftover cakes or cupcakes?  You could throw it away or you can make cake pops!! Cake Pops are the perfect "waste management" tool for these kinds of leftovers! So I took the extra cupcakes along with the leftover cake from the few days before and threw it all in the food processor till it resembles the consistency of Play-Doh! This is how you make "Cake Dough." Then take that cake dough and roll it up into 1.25 inch balls – about the size of a ping pong ball (of course we use the Easy Roller for this step – Or the new Mini Easy Roller!) Check it out, this is how the New Mini Rolls 9 at a time.
The Easy Roller works the same as the "Mini" just bigger, for more industrial use, since it rolls 21 at once! Then you melt candy melts or in this case milk chocolate almond bark in a microwave safe bowl and pop it the microwave on 50% power for 1 minute.  Remove the bowl from the microwave and stir.  Then replace in the microwave and heat on 50% power in 30 second increments until it is melted. Next dip a cake pop stick into chocolate candy melts and then into the cake ball.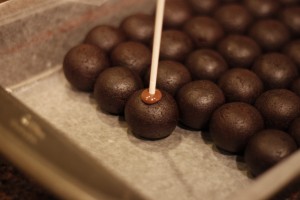 Then submerge the entire pop in the melted chocolate and tap off the excess, rest it on a piece of wax paper until the almond bark sets firm.
Once it is firm you can wrap them up in a clear baggy and twist tie and pop them in the freezer for the next occasion! Or up to 3 months.  I wrap them and store them plain so when I take them out I can decorate them according to the event! Also if you were to just throw them in a freezer bag without the wrapping, they would rub together and "scratch" the chocolate coating. Not to mention, it is helpful to have the extra barrier in the freezer!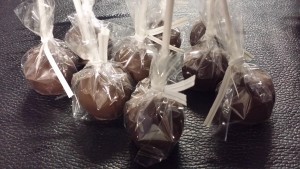 When the next even comes, just put them in the fridge the night before to reduce any condensation. Then the following day you will have plenty of time to decorate them in elaborate swirls and brooches like this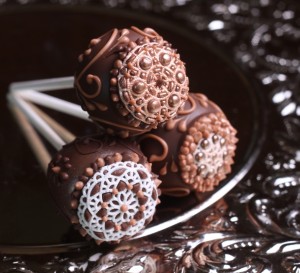 or just decorate them with a quick accent color!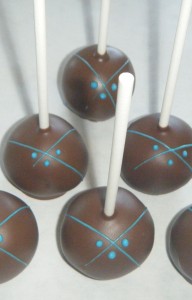 I love using cake pops as "Cake Waste Management" and they taste just like chocolate covered fudge:) If you like these little tips and tutorials don't forget to check out and share our Easy Roller or new Mini Easy Roller with your friends!  It is how we keep these tutorials coming:)!