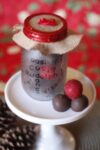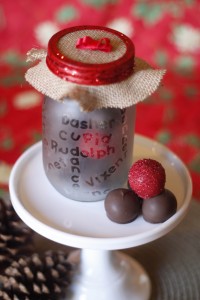 No Bake Cookie Butter Reindeer Noses!
What you will need:
8 cups cookies
1/2 tsp salt
12 oz can sweetened condensed milk
3/4 c milk
1 container of cookie butter
1/2 tbs vanilla
Put the animal crackers into the food processor, blend them until they are a fine powder.
Next add the salt, Cookie Butter, Sweetened condensed milk, milk and vanilla. Turn mixture into a bowl and cover and let it rest in the fridge for a bit. This will give the liquids some time to really absorb into the cookie crumbs.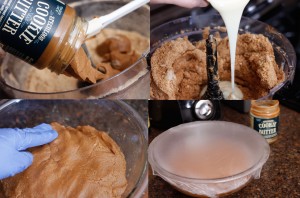 Next roll all the dough into 1 inch balls.  I did this with the Easy Roller with the Optional 1 inch Insert… of course;)! I made approx. 95 1 inch balls with this recipe. Then set them back in the fridge to firm up a bit more for dipping.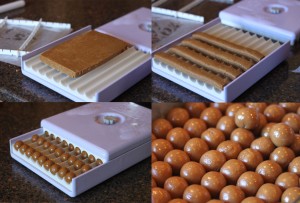 While you are waiting for them to firm up in the fridge you have some time to make some pretty darn cute containers to put them in! I etched all the reindeers names on these Mason Jars to put these into! I Used the Cricut Explore™ to cut all the names of the Reindeers! The Vinyl is sticky on one side so you can stick them to your containers. If you don't have a Cricut, just look for alphabet stickers in your favorite font! 🙂

Once you have all your letters on your jars, put a liberal amount of etching cream to cover the mason jar. It says to wait 1 minute then rinse it off… I tried that and didn't get the effect I was looking for.  I ended up waiting about 15-20 minutes before washing it off and drying it to get ready for these cookie butter truffles:)!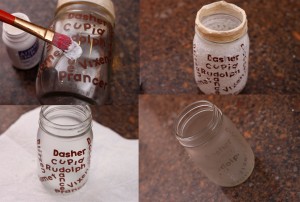 Now since these "Reindeer Noses" will not have sticks, I used a toothpick to dip them.  I placed the toothpick into the center of the truffle and then immediately dipped in chocolate.  (almond bark/candy melts – melt these in the microwave on 50% power in 30 second increments) Tap off the excess and then "shake" them loose from the toothpick.  Then I dipped the toothpick in a little melted chocolate and covered the hole before the whole thing set up.  Then don't forget Rodulph!  Make sure to dip 1/9 of your truffles into red candy melts!  I like to also coat them in red sugar sprinkles for the extra "glow" effect 😉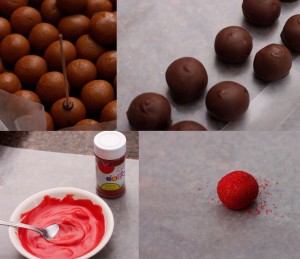 Now take your mason jar lid and assemble it with a piece of burlap between the lid and the band and trim around, leaving a bit to overhang.  Next I took off the band and painted it red for Rudolph, and what holiday project is complete without glitter;)!  I put a little glitter around the band while the paint was still wet so it would stick!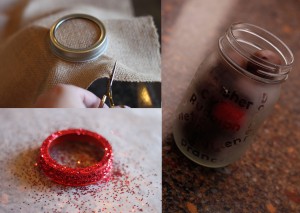 There you go! All ready to leave out for Santa or give at your next Holiday Party 🙂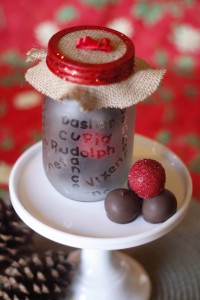 If you like these tutorials don't forget to check out and share our Easy Roller (or our new Mini Easy Roller!) with your friends!  It is how we keep these tutorials coming:)!