It is the Middle of Spring and Mother's day is around the corner!  We are all busy, that is why these Flower Cake Pops are perfect this season.  You just need a few things and you will have perfect cake pops 🙂
I used these blue wide mouth mason jars as a vase (I like the blue ones for this, since it feels more like a flower vase when it's blue), a few marbles to weigh it down and these pre-made royal icing flowers!  Can't get any easier than that.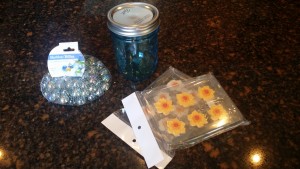 How do you make cake pops, you ask?  My "recipe" is so simple you won't believe it!
First I start with a Box of cake mix.  Which one? The one on sale, of course 🙂 I bake it just as directed on the box and then wait about 20-30 minutes for it to cool.  Once it is cool I put the cake into the food processor and turn it on.  That is IT! I don't add anything or under cook the cake, just a baked cake processed down to a doughy consistency. After about 2-3 minutes it turns into cake dough that I will roll into 1.25 inch balls. Don't believe me?  Here is a picture series of how it looks in different stages in the food processor.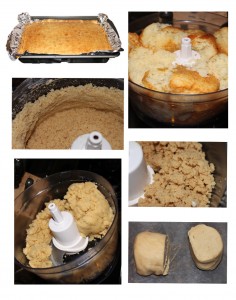 Next I use the Easy Roller (or New Mini Easy Roller) to roll the cake dough into 1.25 inch balls.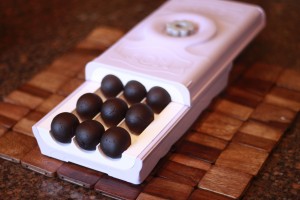 Cake Balls are easiest to dip cold, but if they are too cold they will crack after they have set.  So I recommend only about 20 minutes in the fridge. Or if you will be chilling them overnight just make sure you leave them on the counter to warm up just a bit before you start dipping (maybe 15-20 minutes).
I dipped these cake pops in white chocolate almond bark.  You buy almond bark in your grocery store in the baking isle. You can melt it in the microwave on 50% power for 1 minute, stir and than in 30 second intervals until melted.
Next dip your cake pop stick in the melted chocolate and insert it into the cake ball. This will hold the stick in the cake ball.  Now you can dip the entire pop into the chocolate and tap off the excess.  Before the chocolate sets, place the royal icing flower right on the top, and that is it! I told you these were easy!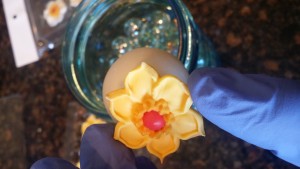 Look how perfect these are for your Spring display or to give your Mother on Mother's Day!
If you like the tutorial don't forget to check out and share our Easy Roller or New Mini Easy Roller with your friends!  It is how we keep these tutorials coming:)!