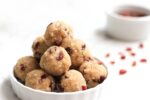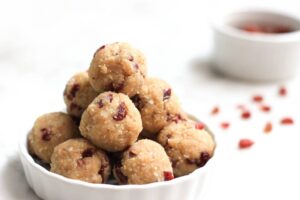 This recipe for Cashew Butter Protein Balls is a healthy little protein energy bite adapted from Author Magdalena Wszelaki!
Ingredients:
3/4 cup raw cashews + 1/4 cup to roll over the outside
2 TBS coconut oil
2/3 cup almond flour
1/3 cup shredded coconut + 1/4 cup to roll over the outside
1/2 tsp. ground cinnamon
1 tsp. vanilla extract
2 TBS water
1/2 cup chopped dried cranberries
1 TBS honey
Yield 13 protien balls.
Start by soaking 3/4 cup of the cashews in hot water for 15 minutes,  then drain.
While the cashews are soaking, chop the cranberries. Next place the soaked/drained cashews into the food processor and process until a thick paste forms. Scrap the sides as needed. Add in the melted coconut oil and process until a thick smooth butter forms.
In a large bowl combine cashew butter, almond flour, shredded coconut, cinnamon, chopped cranberries, honey and vanilla until you get the consistency of cookie dough.
Now take the 1/4 cup of cashews and 1/4 cup of coconut and process them until they are a crumbly, reserve mixture to roll the cashew protien balls in after they are rolled.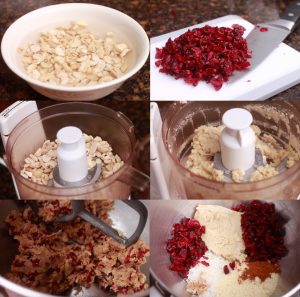 Now roll this mixture into balls! We did this in the Mini Easy Roller. What is the Mini Easy Roller?  It will help you roll 9 of these balls at once! take a look: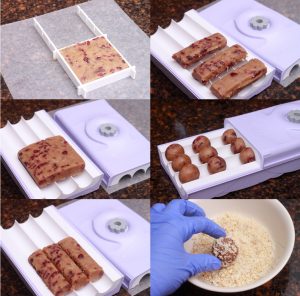 Once they are rolled, coat them in your reserved cashew/coconut mix!
If you like the tutorial don't forget to check out and share our Easy Roller (or our new Mini Easy Roller!) with your friends!  It is how we keep these tutorials coming:)!
Dont forget to pin for later!