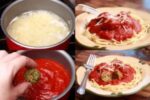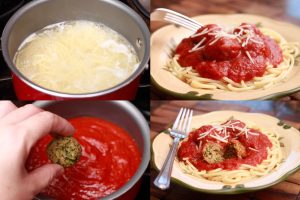 These Zucchini "Meatballs" I found over at Skinnytase.com and they were delicious and fast to make with the help of the Easy Roller.
Ingredients:
Cooking Spray
1 tsp olive oil
2 crushed garlic cloves
1 1/4lbs of unpeeled Zucchini (grated)
1/2 tsp kosher salt
1/8 tsp pepper
3 TBSP chopped Basil (or 3 tsp dried)
1 cup Italian season breadcrumbs
1 egg beaten
1/4 cup Romano Cheese
2 cups marinara sauce
pasta of your choice
Directions:
Heat the oven to 375°F. Spray a large rimmed baking sheet with cooking spray.
Grate zucchini. Â Place the olive oil in a large nonstick skillet over medium heat. When hot add the garlic and saute until golden, about 30 seconds.

Add the zucchini, season with salt and pepper and cook on high heat until all the water evaporates from the skillet, 5 to 7 minutes. Transfer to a colander to get rid of any excess water, then to a large bowl along with the bread crumbs, beaten egg, Romano cheese and chopped basil.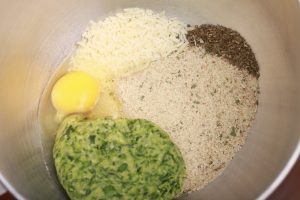 Form the zucchini mixture into 16 balls, I did this in the Mini Easy Roller, and transfer to the prepared baking sheet. Spray the top and bake until firm and browned, about 20 to 25 minutes.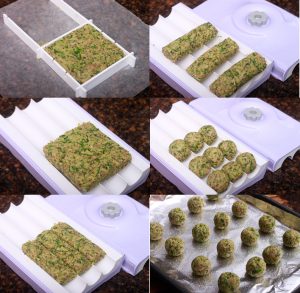 Boil your pasta for 10-12 minutes. Heat the sauce in a large deep skillet to warm the sauce, about 4 to 5 minutes. Add the meatballs to the sauce and simmer for 5 minutes. Garnish the meatballs with fresh basil leaves and serve with ricotta or grated cheese if desired.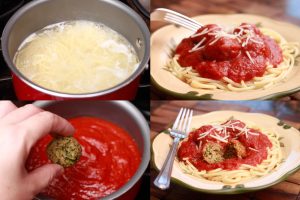 Dinner is served thanks to Skinny Taste and the Easy Roller! Â The Easy Roller can be used for all sorts of things from meatballs to these "meatless" balls! Â Cookies, cake pops and so much more! Â You can find them online here.