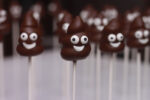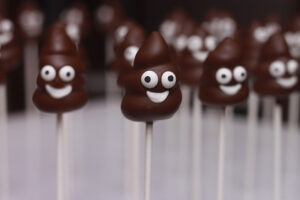 Who doesn't love Emojis?  Everyone I know is especially fond of the "Poop" Emoji, and if you are too, you might want to take a look at this cake pop tutorial 🙂 Welcome to DIY Poop Emoji Cake Pops!!
These were pretty easy, and unfortunately I didn't even need my Mini Easy Roller to make them!! What is the Mini Easy Roller?! It rolls cake pops (cookie and meatballs too) into balls, several at once! Take a look:
We even have one that rolls MORE balls at once! Check out that one HERE.
But I digress…Back to Poop Cake Pops;)! First bake (or buy) your cake! Any cake will work, if you are making a cake, oil based cakes – like in the cake boxes – are best as they yield a more pliable dough.  Take that cooked cake and put it into a food processor and turn it on until it looks like dough, like this: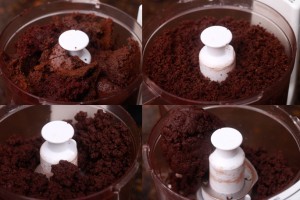 *If you don't have a food processor, you can mix the cake by hand and knead the crumbs until a dough forms (It just takes a bit longer)
Next find some eyeballs!  I got these sugar dots from Bakerella that I just had to draw on a pupil (with food safe markers), but there are several eyeball choices;)! You can find them at your local craft store or even make them yourself if you are feeling extra crafty with some royal icing.  Just do this step first so you are ready to go!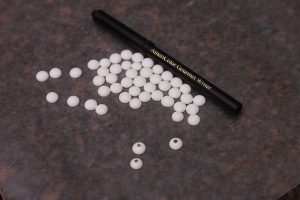 Next, it is time to form the Poop Cake Pops! I did this by packing a piping bag with cake dough!  I used a tip adaptor (without a tip) but if you don't have those just a 1/2 inch or so snip off the end will work!  With the piping bag placed straight up and down against some wax paper start swirling! If you try to make too tight of swirls the cake dough will crack more then if you swirl it a little more loosely. Once I made a  full 3 turns around I lifted up and released pressure.  It ends with a flat spot, so I just formed it into a point.
You can cover these with plastic wrap while you get your chocolate ready.  You don't want them to dry out.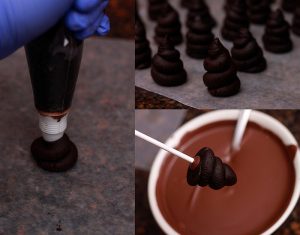 I used chocolate almond bark and melted it down in the microwave. Place the chocolate in a microwave safe dish and heat it for 1 minute on 50% power.  Take it out and stir.  If it is not melted, put it back in, for 30 second increments until the chocolate is completely melted.  Now dip the stick into the chocolate, then into the base of the poop cake pop 🙂  Then submerge the entire pop into the chocolate at gently tap off the excess.
Before the chocolate sets, add the eyeballs, place them at about the center of the poop 😉 Now place it into a cake pop stand or styrofoam until the chocolate sets.  Once the chocolate has set you can draw on a mouth with some white chocolate candy melts.  (I melt the white chocolate in the same manner and place it into a ziplock bag and snip a tiny corner off.)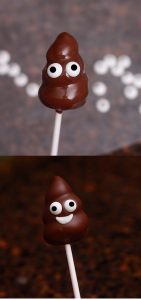 There you have it!  Poop Emoji Cake Pops!  They will for sure be the talk of the party 😉