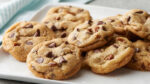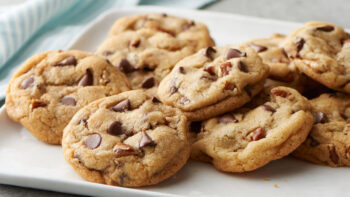 Who Doesn't Love a Delicious Chocolate Chip Cookie!  They are a classic!  I've been using this adapted recipe for a while now. I think it is the best chocolate chip cookie recipe I have found!  Here goes:
Delicious Chocolate Chip Cookies

2 Sticks Unsalted Butter (Softened)
1 Cup Brown Sugar (Packed)
1/2 Cup Granulated Sugar
1 Egg
1 Egg yolk
1.5 Tsp. Salt
2 Tsp. Vanilla
1 Tsp Baking Soda
2 3/4 Cup Flour
1/2 Cup Mini Chocolate Chips (Semi-Sweet)
I also make it in about that order, all in one bowl. Rule breaker I know!! But, I hate dishes.
I Cream the butter and sugar first until its light and fluffy.  Then add the egg, wait for it to incorporate and then add the extra yolk. Next I add the salt, Baking Soda, and Vanilla. Again mixing until it is completely incorporated then I add the flour just before the Chocolate Chips. I will use up to 2 3/4 cups of flour.  I like to add the flour after the salt/baking soda. Because if I mix all the dry ingredients in a separate bowl and then into the batter,and I happen to not need all the flour, I don't know if enough baking soda or salt made it into the cookies! ..plus dishes;)!  I'll mix enough flour until the dough is no longer sticky.  Which for me here in AZ is about 2 3/4 cups!
Next I take all that cookie dough, and place it into the Frame of the Easy Roller, level it out with a rolling pin. Then remove the frame and place the "Slab" of dough onto the Easy Roller to be cut. Next remove the "strips" of dough and replace 3 of them horizontally and then continue to roll it out with the the Help of the Easy Roller. I like getting to the eating of the cookies as quickly as possible and by rolling 21 at a time I can get through this whole batch in 2 rounds of rolling!
I've even got my son making these delicious chocolate chip cookies for me, take a look! #winning  So if you are more visual, take a look at this quick video and see how its done!
If you are looking for a No-Bake Cookie Dough because sometimes the dough is the best part about making cookies!! Check out this post!
If you liked this post, share it & the Easy Rollers with your friends and family! …It is baking season after all!!), it is how we keep these posts coming!!