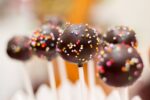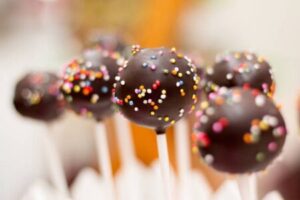 Who doesn't like No Bake Cookie Dough Pops?  Since I cannot seem to keep out of the cookie dough bowl, it is time to make a No Bake version 😉
The Best No Bake Chocolate Chip Cookie Pops

1 Stick Unsalted Butter
1/4 Cup Granulated Sugar
1/2 Cup Brown Sugar
2 TBSP Milk
1 Tsp. Vanilla
1/2 Tsp. Salt
1 1/2 Cup Flour
1/2 Cup Mini Chocolate Chips (Semi-sweet)
Chocolate Almond Bark (For Dipping)
Chocolate Sprinkles (For Decoration)
Combine the butter and sugar, next the Milk, vanilla and salt, then the Flour, finally add the mini chocolate chips!
Next I take all that cookie dough, and place it into the Frame of the Easy Roller.   Then level it out using a rolling pin.  Next, remove the frame and put the "slab" of dough into the Easy Roller  to cut into stips. Remove those strips and place 3 of them horizontally across the Easy Roller and roll.
I like to get to the eating of these no bake cookie dough pops! So being able to roll 21 pops at a time, I can get through this whole batch in just one round of rolling!
Once they are all rolled into 1.25 inch balls I melt the Chocolate Almond bark on 50% power in a microwave safe bowl in 30 second increments until the chocolate coating is fluid. Then take your stick, dip it into the melted chocolate and into the cookie dough pop. Next use that stick as a handle to dip the pop into the bowl of chocolate, tap off the excess and decorate with sprinkles if you wish!
If you are more visual, like me, here is a super short video!
If you liked this post, share it & the Easy Rollers with your friends and family (…It is baking season!!), it is how we keep them coming!!