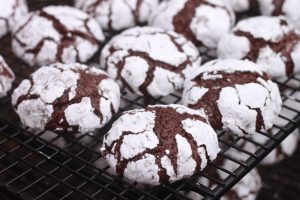 These Chocolate Crinkle Cookies I found over at Simply Recipes by Garrett McCord and I just had to try them in the Easy Roller!
Ingredients
1 cup unsweetened cocoa powder
1 1/2 cups white granulated sugar
1/2 cup vegetable oil
4 eggs
2 teaspoons vanilla extract
2 cups all-purpose flour
2 teaspoons baking powder
1/2 teaspoon salt
1 cup confectioners' sugar
1 Beat together cocoa powder, white sugar, vegetable oil: In the bowl of an electric mixer with the paddle attachment (or you can beat by hand) mix the cocoa powder, white sugar, and vegetable oil until it comes together into a shiny, gritty, black dough of sorts.
2 Add eggs, one at a time, add vanilla: Add the eggs, one at a time, making sure it is fully incorporated before add the next, (about 30 seconds per egg) then add the vanilla and beat until combined.
3 Whisk together flour, baking powder, salt: In a separate bowl, whisk together the flour, baking powder, and salt.
4 Beat dry ingredients into cocoa oil mix: Mix into the chocolate mixture on low speed until just combined. Do not overbeat.
5 Cover and chill: Cover the dough with plastic wrap and chill the dough for four hours or overnight. If you are using the Easy Roller, dust a piece of wax paper with powder sugar, assemble the frame and turn dough out into the frame. Dust the top of the dough with powder sugar and place another sheet of wax paper over top of the dough and with a rolling pin, roll it out flat.  Then put the frame of dough into the refrigerator over night or until firm enough to roll.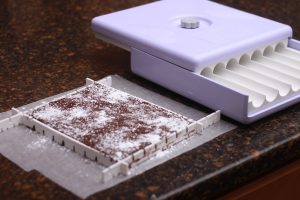 6 Roll dough into balls, roll into powdered sugar, place on cookie sheet: Preheat the oven to 350°F and line two baking sheets with parchment paper. Place the confectioner's sugar in a wide bowl.
Using a rounded teaspoon get clumps of the chilled dough and roll them into 1-inch (2.5 cm) sized balls using your hands. Or if you are using the Easy Roller  you can just de-form the plastic frame, set the dough into the Easy Roller to be cut (then remove them) and place 3 strips of dough back onto the front half of the Easy Roller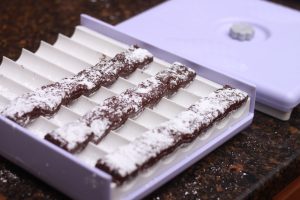 Replace the lid to just cover those strips of dough and slide forward and back until you have rolled them into balls. 2-3 times swiftly should be good!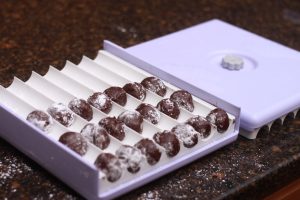 Now just Roll the balls in the confectioner's sugar and place on the cookie sheets to bake for about 10-12 minutes.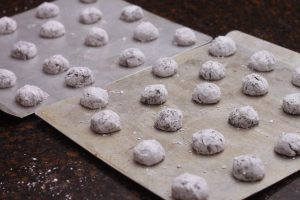 Allow to cool a minute or two on the baking sheets before transferring to a wire rack to cool completely.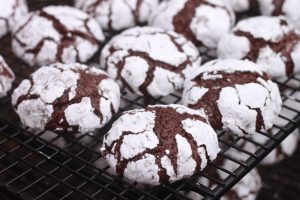 I love using the Easy Roller to make cake pops, but these cookies were just as fast and easy!