Acorn Kisses!!
These are so fun to make and of course they are DELICIOUS!! I first saw Hershey post these acorns but I had over dosed on Nilla Waffers and butterscotch as a kid;)!   So I decided Snickerdoodles and milk chocolate sounded much better to me! You can of course buy Mini Nilla wafers for this but I made tiny snickerdoodles!!
You will need:
A snickerdoodle cookie recipe
Easy Roller and 1 inch insert …optional, but we recommend it;)!!
Hershey Kisses
Nestle Milk Chocolate Morsels
Candy Melts
Here is how I make Snickerdoodles:
Then the problem was how do I make the right sized Mini Snickerdoodles to fit the Hershey Kisses!  I tried my Easy Roller with the 1 inch insert.  By the way, if you haven't seen the Easy Roller, here is a 30 second Demo!!

This is the Snickerdoodle Dough on the Easy Roller with the 1 inch optional insert!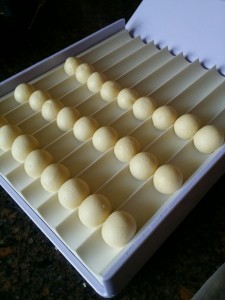 and it was too big:(  So then I cut those balls in half… Still too big!!  So I ended up cutting each ball into 1/4's!  That worked perfect!!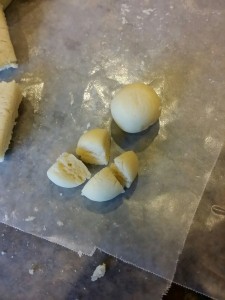 Then don't forget to roll them into the Cinnamon and Sugar!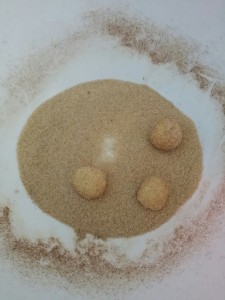 Put on a cookie sheet and bake these tiny ones for about 8 minutes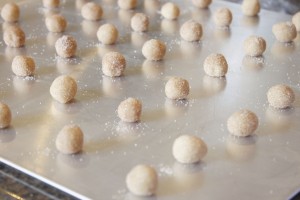 These came out so cute!!  I had to eat a few just like this;)!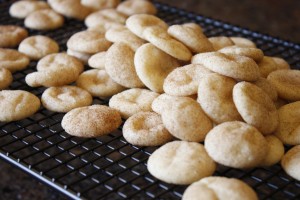 While they cool start unwrapping all those Hershey kisses:)!!  FYI, I have also made these with the caramel Hershey kisses and those are life changing;)!!!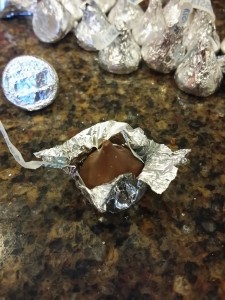 Once they are all unwrapped, dip the base of the Hershey Kiss into the candy melts and use that to "glue" them on to the Tiny Snickerdoodles:)!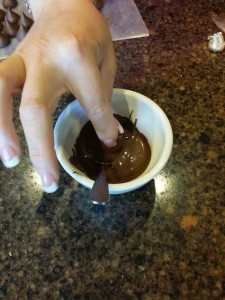 PS, do this step first!  If you try to attach the morsel on top first and then flip it over to add the Kiss, they slide right off before they set… ask me how I know;)!!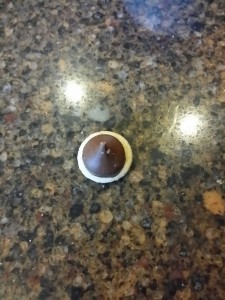 Once all the Hershey Kisses have set, flip them over and add the chocolate morsel the same way, by dipping the morsels in the candy melts and adhering them to the tops of the cookies:)!
These are a great project for the kids to help with too:)!! Lots of fun and super easy! Hope you enjoy:)!!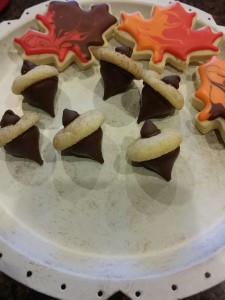 Let us know if you give it a try!! Also don't forget to Check out our Easy Roller (or our new Mini Easy Roller!)! It is how we keep these tutorials coming:)!!