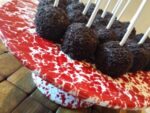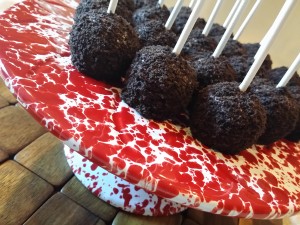 Things you will need:
•Box Cake Mix of your choice (Or your favorite recipe) …or leftover cupcakes or cake scraps!
•3 Eggs
•Water
•Vegetable Oil
•Oreo Cookies
•Chocolate Almond Bark or Candy Melts
•Cake Pop Sticks
All Cake Pops start off with a baked cake!  This can be store bought or your best recipe.  Next you are going to crumble it down and knead those crumbs into a "Play-doh" like consistency.   You can do this by hand, but I always use my Food Processor to do this, a mixer works just fine as well!  It is much faster and you will get more consistent results. Take a look at the steps it goes through in about a minute or 2!  First it will break down into fine crumbs, then they start to stick to each other and form a bit bigger of a crumb and finally, if you leave it in long enough it will turn into a big ball of dough all by itself!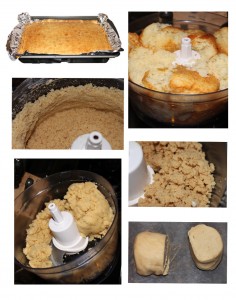 The first step in creating these Easy Oreo Cake Pops is to roll the cake dough into rounds.  Have you seen the
Easy Roller
?  It will roll 21 cake pop rounds at a time, which makes this step a snap!
You will measure it into the frame (provided) and then place it into the Easy Roller to be cut into dough logs and then turn those logs the other way on the Easy Roller and slide just a few times, to get 21 cake pop rounds!  Here is a 30 second demo… See for yourself:)!
Cake pops are easiest dipped cold.  However too cold and you will find your cake pops cracked after they have set. Cake pops actually have the best outcome if they are dipped at room temperature, So if you are going to refrigerated them for ease of dipping, just make them cold enough to where you are comfortable dipping them.  For this project I would say refrigerate them until you get all your Oreo's Crumbled:)!
You guessed it, next step, get all your Oreo's and crumble them up!!  I have a small food processor that is perfect for this, but if you don't, you can put them in a large freezer bag and crumb them by rolling over them with your rolling pin!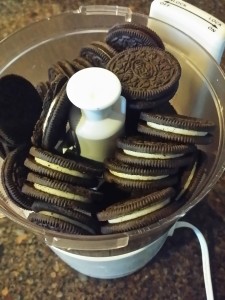 I put them all in and turned it on until they looked like this…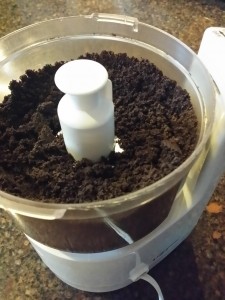 Place these into a bowl and get a spoon for it (unless you want your hands to be full of crumbs)!
Next put your candy melts into a microwave safe dish and place it in the microwave at 50% power for 1 minute to melt it down.  If the candy melts are still not yet melted, put them back into the microwave at 50% power for 30 second increments until it is melted.
Next get your cake balls out of the refrigerator and dip your cake pop stick into the melted chocolate and then into the cake pop. Now dip the entire cake pop into the melted chocolate.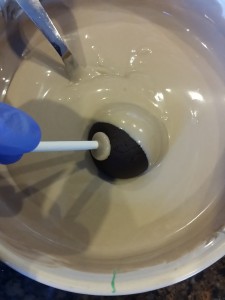 Tap off the excess!  I love these cake pops because they are VERY forgiving!! Don't worry about bubbles in your chocolate or if the chocolate is not completely smooth.  All the needs to happen in this step is to remove the excess chocolate the best you can!  the whole or most of the pop will be surrounded in Oreo and you will will never know!!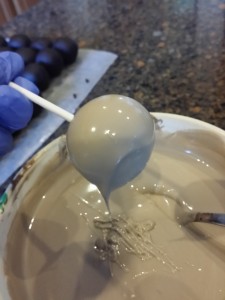 Then immediately dip your pop into the cookie crumbs.  They will stick to your wet candy melts!  Roll it around in the bowl and when you have gotten the base coated, use the spoon to sprinkle the Oreo Crumbs on the top.  Tap off the excess cookie crumbs and place them on waxed paper to set.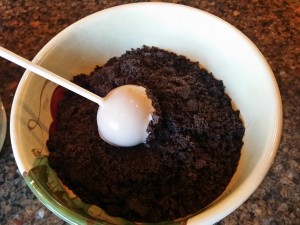 When they are completely coated they should look something like this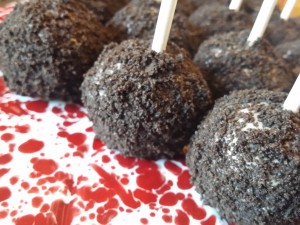 I have them displayed here on my Crow Canyon 
cake stand
!  My cake stands see a lot more cake pops than actual cakes;)!!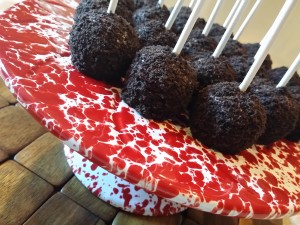 These are a Huge Hit and are absolutely DELICIOUS!!! If you want to get a little more fancy with these cake pops, take a look at these Oreo Cake Pops I made …way back when I was first making cake pops!!  These were just rolled in the Oreo Crumbs at the base of the pop and the top half I piped the coordinating colors for the event!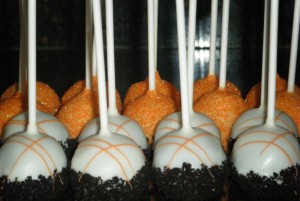 If you like the tutorial don't forget to check out and share our 
Easy Roller
 (or our new
Mini Easy Roller
!) with your friends!  It is how we keep these tutorials coming:)!