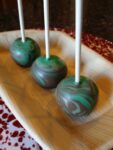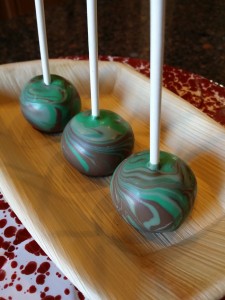 Camouflage cake pops?  Let's make Fast Easy (of course) "Camo Cake Pops"! "AKA" marble cake pops!!
Have you ever made "marbled cake pops"? I made my first batch of them a few years ago and the technique went viral! Here is a sneak peak at my very first marble or as I like to call them "tie – dyed peace love and cake pops!"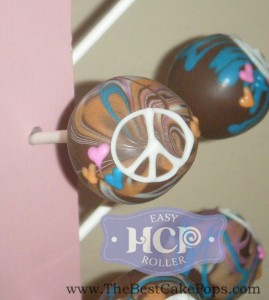 As you can see, this marbled technique can be used for various different themes, "Camo cake pops" included!
Start by baking a cake …I use the boxed variety;) and make your cake pop dough, this is how I do it in case you were wondering! Then we use our Easy Roller to roll perfect cake balls, this amazing tool will give you great, consistent results every time. For the "Camouflage cake pops" I will start with just a basic ball shape. So I will use my Easy Roller (or our new Mini Easy Roller!) to make all the cake dough into 1.25? rounds. Of course you can do this part by hand, it just takes longer!  Here is a 30 second demo, check it out 🙂
Once you have all your cake balls ready, start warming up your candy melts! I used milk chocolate in a bowl and a few different colors of green in a sandwich bags with a little bigger of an opening at the tip! You will want a lot to come out fast for these! Also have an empty dish and some cake pop sticks ready to go as well!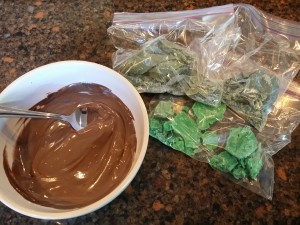 I have seen other tutorials on how to make marbled cake pops, but none quite as easy as the way I do it:)!! So to achieve this "Camouflage" or "marbled" cake pop, the Easy way, take the cake pop stick, dip it into the chocolate, then into your cake ball. Now take that cake ball and dunk it into the chocolate melts. Make sure to have as much chocolate on the pop as you possibly can! No tapping!! Now quickly take it over to you empty, clean bowl and start piping on thick stripes back and forth on the pop and twist it as you go, so the greens will go all the way around the pop!  You should now have tons of candy melts on this one pop!! For now it should look Like this:
Now that you have tons of chocolate on here it should want to fall off pretty easy!! Just hold it upside down and carefully wiggle it till most of it falls off!
What happens is all that chocolate will flatten out around the cake pop and start twisting around itself to a pretty cool effect! When all the excess is off, set it on some wax paper to set!
Keep on going till you have all your cake pops done and ready to go!!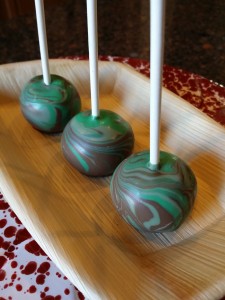 Wondering about that cool plate?  Its a Leaf and Fiber Palm Leaf Plate on top of our Crow Canyon Home Cake Stand 🙂
Hope you liked our "Camouflage Cake Pops! Let us know if you give it a try!! Also don't forget to Check out our Easy Roller (or our new Mini Easy Roller!) It is how we keep these tutorials coming:)!!