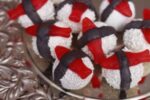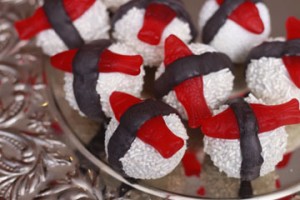 Sushi Cake Pops! I have been making these for a while so it is time to make a tutorial 🙂 All you need is the Mini Easy Roller, some Swedish Fish, White Sprinkles, and some candy melts, and cake of course!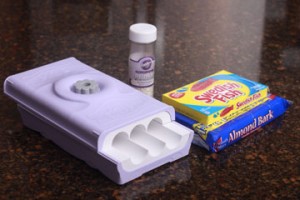 Bake your cake!  I made a Betty Crocker, Devils Food Cake, per the directions on the box. Once it iscool to the touch I put it into the food processor until it looked like dough.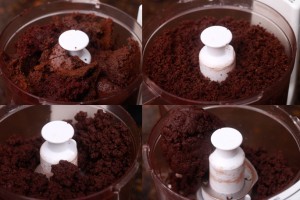 Next, to roll all the 1.25 inch cake pop balls! I start by filling the included white frame with the cake pop dough.  Fill it tight!  The tighter it is in there the better the balls will come out.  Then remove the frame and place the square of dough into the Mini Easy Roller. Use the lid to cut it into 3 strips.  Then take those strips and put them the other way across the bottom half of the Mini Easy Roller.  Cover those up with the lid and slide back and forth 3-4 times swiftly. You can roll out the whole cake in under 5 minutes 🙂
Next, dip the stick into the White Chocolate Almond Bark or candy melts. To melt the candy melts or almond bark, just put the candy into a microwave safe bowl and heat it in the microwave on 50% power -or defrost- for 1 minute. Then stir and place the bowl back in the microwave in 30 second increments until melted. Dip the lollipop stick into the cake pop ball. Then dip the entire cake pop into the candy melts.  Tap off the excess and before the coating sets, sprinkle with white sprinkles and place the Swedish fish candy right on top.  It's beginning to look like Sushi Cake Pops already!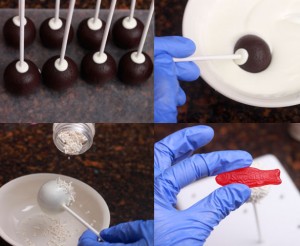 After the white chocolate has set I piped two lines over top of the cake pop and then filled it in with black candy melts.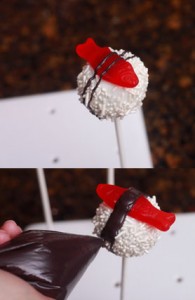 Then you can stick them in a vase or container (Or a blue mason jar in this case) – DIY fish net mason jar tutorial here.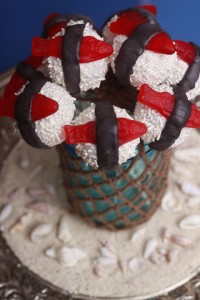 Or you can twist out the sticks and and display them as "bites"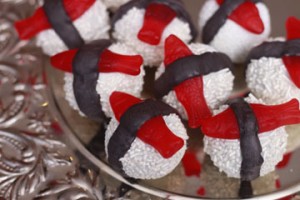 As always if you like these tutorials and want to see more please "like" and "share" our Easy Roller or New Mini Easy Roller with your co-workers, friends and family!  It is how we keep them coming, it also means the WORLD to me:)!!